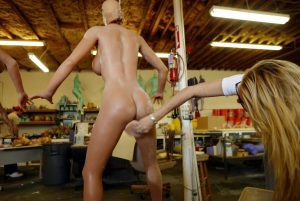 Relationships are hard. Sometimes persons have faith that their special someone is out there waiting to cater to their love language. And you are admired for holding on to your dream. But in the meantime, you can have fun with an Abyss Creations product, called the RealDolls(www.realdoll.com).
RealDolls are a new line of realistic sex robots set to be out in 2017. Created with  human-like genitals that have the ability to become warm, synthetic skin with electronic sensors which allows them to respond to touch, a "sexy voice," that talks back when spoken to, and also the ability to pleasure their owners with specific skills according to sexual orientation and tastes. Priced between  USD$5000 to USD$15,000, consumers will be able to get their hands on these sex robots.
Matt McMullen, the founder, and CEO of Abyss Creations was quoted as saying, "I want to have people actually develop an emotional attachment to not only the robot but the actual character behind it. To develop some kind of love for this being."
However, the opinions of persons may differ, one thing is quite evident, the world is moving in a direction that enables you to buy love.